The day was April 26, 2002. It was a beautiful spring day in Chicago, Illinois. (That's my new big number, Chicago, Illinois) Charlie and I got up and headed out to breakfast at the good old Clow Airport Restaurant. Then the adventure began.
We headed out to a pet store. "A Pet Store?" you may ask. Yes, a pet store. I had this brilliant idea for our centerpieces…goldfish! The lady at the store thought we were crazy, but we did it anyway. Two fish per table x 15 tables = LOTS o Fish! Plus we got 4 special fish for the head table.
So, we got our fish and headed over to the hall. We got the pretty little mirror squares from Denise at the hall. Charlie started cleaning those and I started putting the bowls together. Then came the task of dumping the fish in. Oh what fun! We ended up losing 2 fish before we ever left the hall. Oops! Poor fish. 9 Then Mercedes came to help. She brought Christmas lights to string up. What a good friend. Mercedes and I got started on testing lights. (It's amazing that one little bulb could cause so many problems!) Then our good friends from Florida drove up, Lisa and Linda. I got in the car with them and went more decoration shopping. We decided to get candles for the tables and balloons and whatever else they picked out. We grabbed a quick Mc Donald's lunch for me and it was off to the hall again.
It was now time to grab Charlie and head back to the Krueger house for the fun of getting ready.
Charlie took the guys to our hotel room to get ready, Paul and Robert. The girls and I stayed behind. We took a little too much time lying around before we got started. All of a sudden we were in a mad rush and I was almost crying. Elizabeth did my make-up and Candy came to the rescue and did my hair. We decided we needed to safety-pin the dress to me for some reason. Why do they call them safety? They're not safe!
The plan was…Keith would drive the 3 of us girls to the church in his car. No way was my dress fitting in there! So, Candy and Larry came to the rescue again. Melody got in her car seat and we all shoved me into their van! That's where the safety pins became un-safe! OUCH! Elizabeth decided to take her parent's other car, which we later figured out was a good thing. Then off to the church.
Don't ever, ever pick 5pm on a Friday afternoon to have your wedding. YIKES! Rush hour traffic! We got to the church at like 10 after 5. I started to calm down. Elizabeth and Amy ran into the bathroom to quickly do Elizabeth's hair, and finally we could start.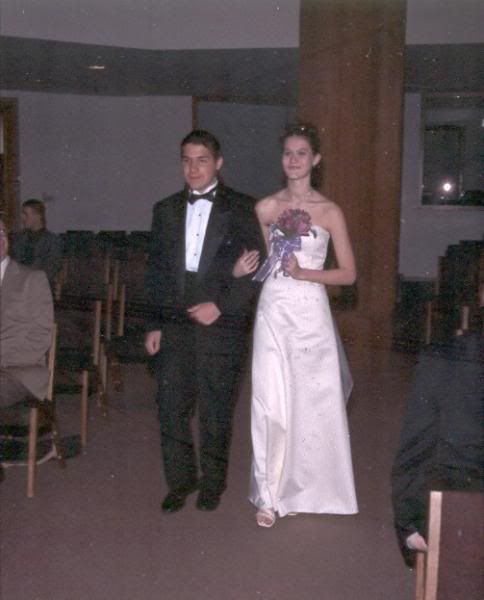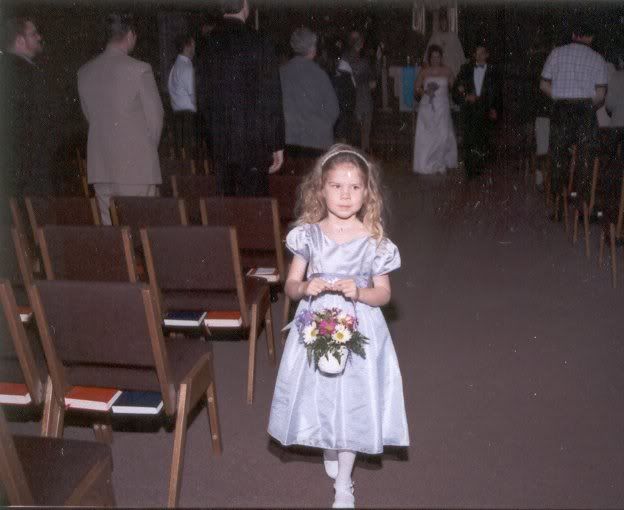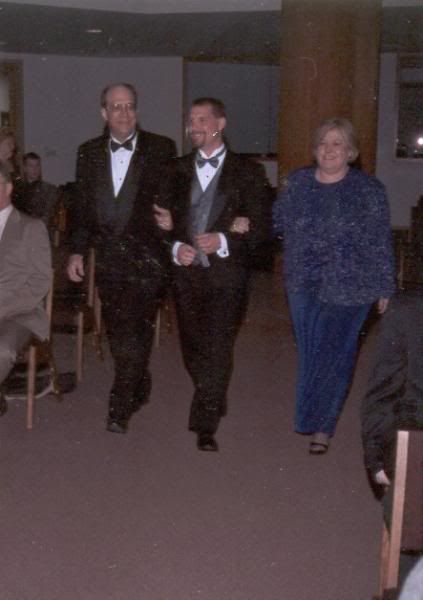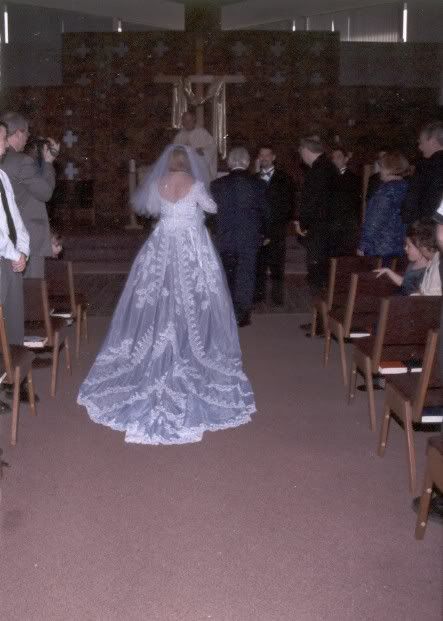 Paul and Amy walk down the aisle, then Elizabeth and Robert, then little Melody (oh what a cutie). Then it was my turn with my dad. The piano player starts playing my song and we start walking. Wow everyone's standing for me…how weird it is. Ok, I'm entering the door, and all of a sudden I can't move anymore. What happened? It's not stage fright!! I could see everyone in the room getting uncomfortable. "What's going on?" Why is she hesitating?" "Doesn't she love him?"
My train was STUCK! As I walked through the door, my enormous train went right under the door and got stuck. Thanks to Beau and Jason for getting it unstuck. Finally I get to finish my walk up the aisle. My dad forgets to kiss me and then the ceremony starts.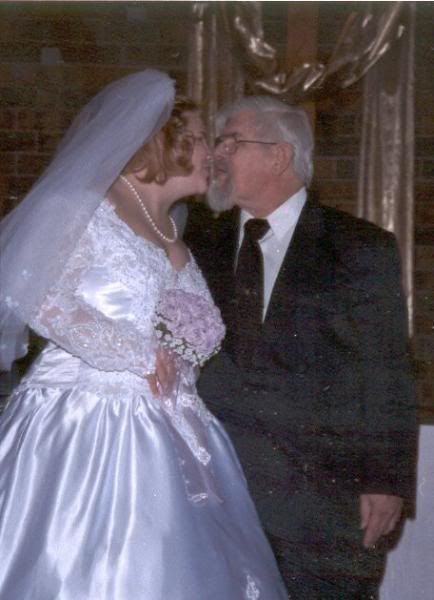 What does Father Gavin start out with? The reason the pretty lavender candle was on the Alter. The candle was to symbolize that my mom couldn't be with us, because she passed away. Oh what a way to start!
So we make it through the vows and Melody had to bring us the rings. What a cutie! Charlie couldn't get the ring on my finger! He was nervous and didn't want to hurt me. Then Charlie's parents, Karen and Tom did "The Wedding Song", Tom played guitar and Karen sang. It was beautiful.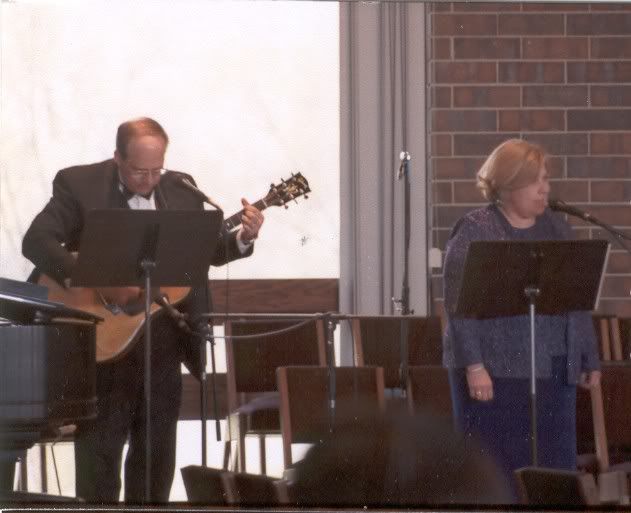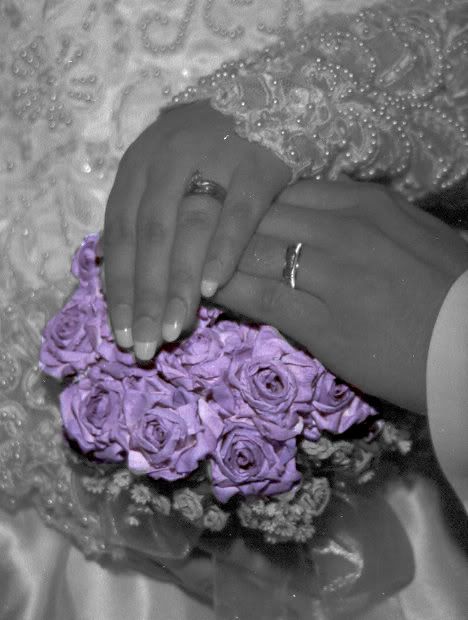 Poor Amy and Elizabeth had to follow me around the entire time, fixing my train. Sorry gals!
We're finished! Now it's picture time. Oh my favorite time of the day! NOT! It went well, though. My brother Mike thought it would be funny to video tape the whole thing. Maybe some day I'll see that video.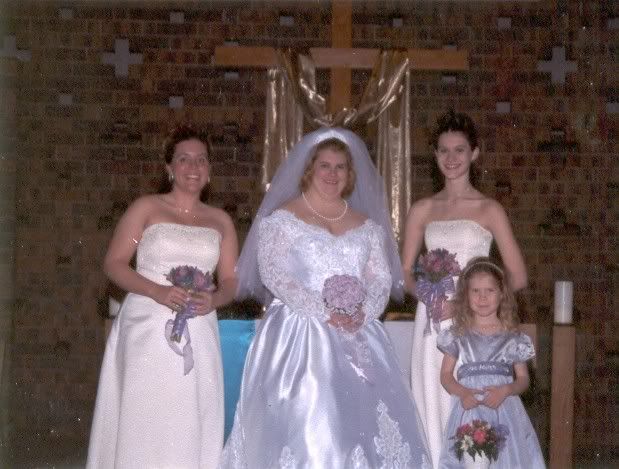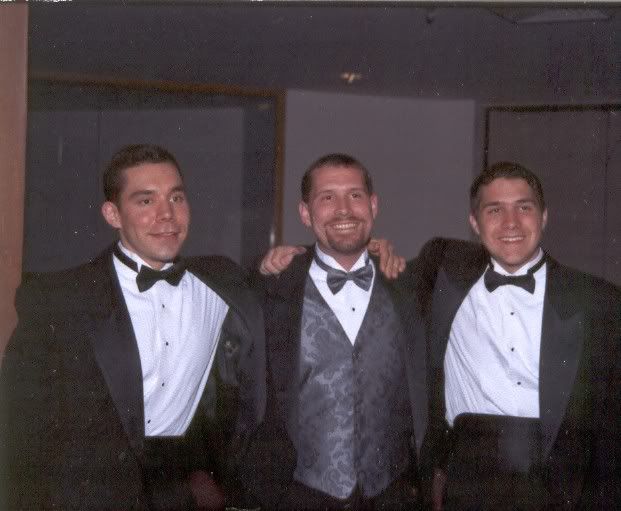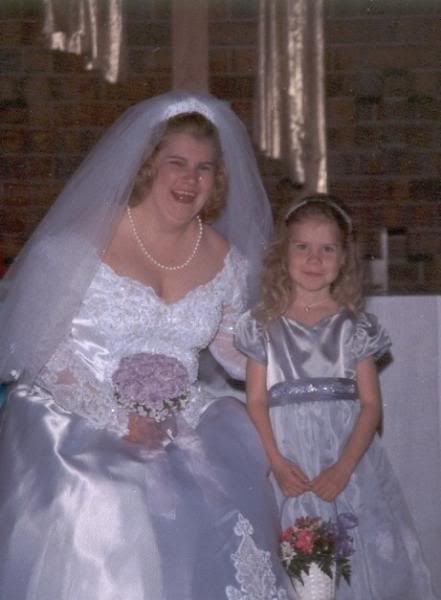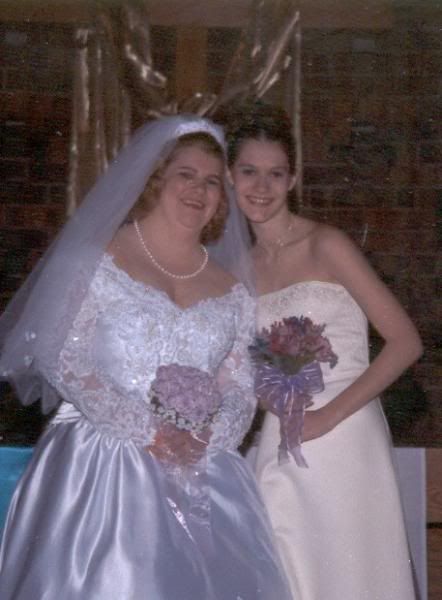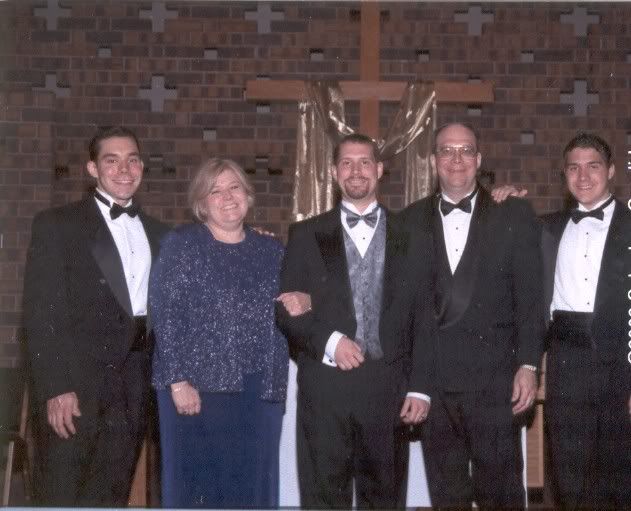 Off to the hall. Oh my! What did Paul do to my car? There are cans and writing and streamers everywhere! Time to shove me into another car. This dress is really a pain! One last picture and we're off. Charlie says, "Let's stop at Shell and get a Red Bull." We stop and there's a sign on the door, "Be back in 5 minutes." We decided to fore-go the Red Bull.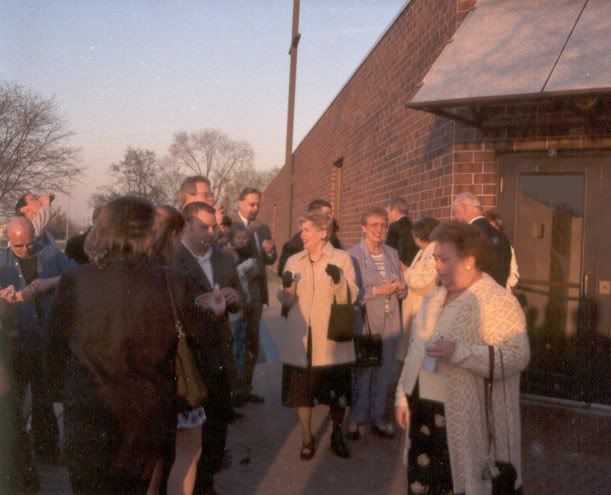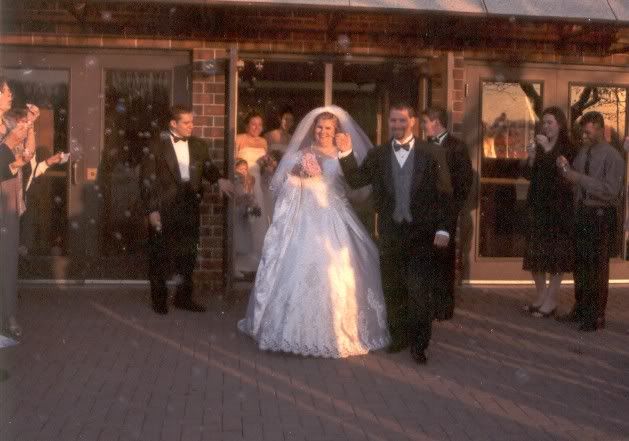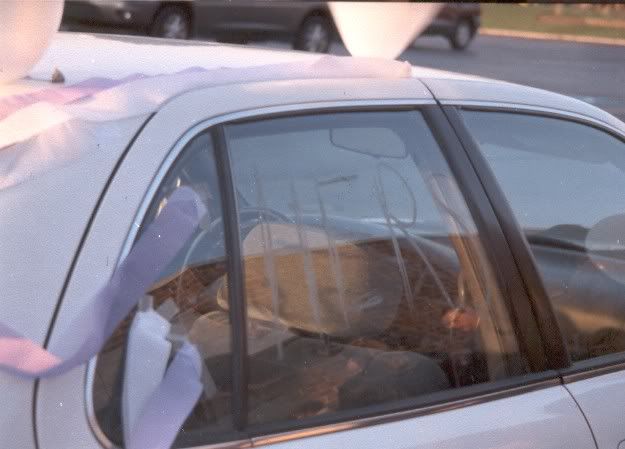 We get to the hall and start the receiving line, even though almost everyone's there already. Then we go inside and Paul gives his toast. It was great. Everyone starts eating.
The girls and I try to go bustle my dress in the bathroom. What an adventure! We sort of get it done, but I'm still kind of sliding on my dress. "Great, this will make for a great rest of the night", I thought to myself. Time for the first dance.
Charlie's mom sang Shania Twain's "From this Moment." Oh no, I can't dance, I'm going to fall. I told Charlie to hold on to me tight and we made it through the song. Both of us singing the whole time.
The rest of the night went well, until it was time for the Electric Slide. My sisters, Merrit and Cathy, decided I needed to dance with them for one song. I tried to tell them I couldn't, but they wouldn't take no for an answer! So I tried. I think I made it through the whole circuit once and I was finally getting comfortable dancing, when BAMN! I slid on the little pearls on my dress and fell. That was the end of that!
We finished off the night and everyone was leaving. It felt as if I was letting the little girl inside of me go. I was sad at one point. (I now realize I can still be the same person.)
Can you believe that Denise made Mercedes take down the lights that night?!? Poor girl. She went home to change, because she didn't want to climb a ladder in a dress, then she came back and took down the lights.
We could leave, finally, my feet were killing me and all I could think about was getting my dress of and going to sleep.
That's the end of our night! It was the best wedding I've ever been to. The Krueger's sure know how to throw a party.